<! BODY BACKGROUND="whtpaper.jpg"> <! SpringGreen> <! BODY BGCOLOR="#FFA500"> <! Orange> <! Black> <! BODY TEXT="#FF0000"> <! Red> <! -------------------------------------------------TITLE OF PAGE--------------------------------------->
---
The Church of God - Southern West Virginia
---
Innovation Center - 1299 Childress Road - Charleston, WV 25003
(The Potters House)
---
DIRECTIONS
Directions to the Innovation Center Meeting Hall:
From I-64 eastbound or westbound into Charleston:
Take Exit 58A (Oakwood Rd / 119 south), proceeding south on Rt 119 appox. 8 miles to the Alum Creek Exit. Turn right at exit and proceed 2.6 miles to the hall at the junction of Rt 214 and Alum Creek Road.
From I-77 southbound or I-77northbound or I -79 southbound: Take I-64 west into Charleston to Exit 58A, then follow the above directions


---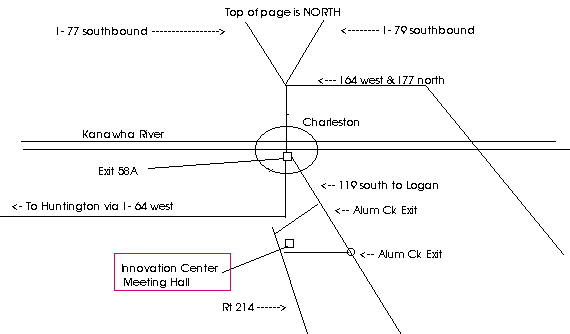 ---
You are cordially invited to attend Sabbath Services with
The Church of God - Southern West Virginia
If you need more information, directions or time of services
Please contact Frank Rogers at 1-(304)-595-6648
Email Frank Rogers at: fdrogers37@gmail.com
or
Contact John Havir at 1-(304)-523-3576
Email John Havir at: jwhavir@comcast.net <! ---------------------------------------------- BODY ENDS HERE ---------------------------------->





<! *********************************************************************>